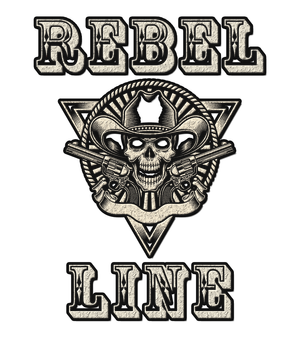 Bio
Rebel Line kicked off its journey in May of 2017 and hasn't slowed down since. With a mix of country and rock spanning the 70s through now, they know how to fill a dance floor and keep the energy going all night. These 4 musicians have years of combined experience in some of the biggest bands in Michigan, and have played venues of all sizes throughout the Midwest. 
 
Rebel  Line consists of...
Travis Paten- Lead Vocals 
Barry Clevenger- Lead Guitar/Vocals 
John "Boxcar" Howard- Bass Guitar/Vocals 
Travis Edgerton- Percussion/ Drums
Established in 2017 Rebel Line is ready to come to a town near you! We are a high energetic band who loves to keep everyone singing and dancing all night long! We have traveled and performed at many different venues across the great state of Michigan, and we look forward to performing at many more as the years go on! 2018 was a big year for the band as lead singer Travis Paten took home the trophy for Review Magazines best country male vocalist of the year! Barry Clevenger was also nominated for best country musician and Rebel Line was nominated for best country band! We look forward to taking the next step as a band as we will be releasing our first EP by the end of summer 2019. The future is bright and we are glad we have you all to be a part of this ride!
AWARDS
-2019 REVIEW MAGAZINE AWARDS-
BEST COUNTRY MALE VOCALIST- TRAVIS PATEN
NOMINATED BEST COUNTRY MUSICIAN- BARRY CLEVENGER
NOMINATED BEST COUNTRY BAND- REBEL LINE
-2020 REVIEW MAGAZINE AWARDS-
BEST COUNTRY BAND- REBEL LINE
 

NOMINATED BEST BAND WEBSITE- WWW.REBELLINE.NET

NOMINATED BEST CD RELEASE- GRAB EM' BY THE HAT/REBEL LINE

NOMINATED BEST LIVE EVENT- GRAM EM' BY THE HAT RELEASE PARTY

NOMINATED BEST MUSIC VIDEO- FLIP FLOPS ''CAMPFIRE EDITION''

NOMINATED BEST COUNTRY VIDEO- FLIP FLOPS ''CAMPFIRE EDITION''

NOMINATED BEST DUO- TRAVIS PATEN & BARRY CLEVENGER

NOMINATED BEST COUNTRY MALE VOCALIST- TRAVIS PATEN

NOMINATED BEST COUNTRY MUSICIAN- BARRY CLEVENGER

NOMINATED BEST COUNTRY SONGWRITER- BARRY CLEVENGER